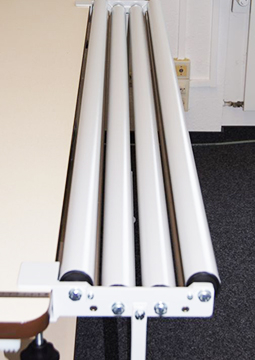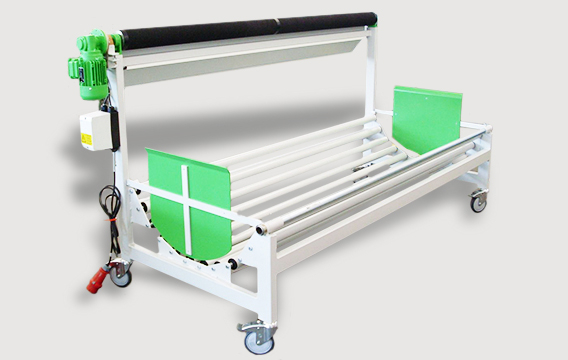 Unrolling machines and cradles
RM & BN – multiple versions for all end uses
The device that significantly simplifies ply spreading.
Unrolling Cradles

Unrolling Machines

Without motor drive, with adjustable roll guides and upper deflecting roller:

RM-1

RM-2

RM-T

low-cost cradle for direct table attachment
max. roll diameter 40 cm

With motor-driven take-off roll, a continuous feed rod and unrolling cradle:

BN-1-R

BN-2-R

BN-T-K

max. roll diameter 50 cm
photoelectric edge control for straight-edge spreading

BN-T

table version without cradle
A maximum material width of 350 cm applies for all unrolling cradles and unrolling devices. Larger material widths and roll diameters available on request – we will be pleased to advise you.
Facts & Advantages

for unwinding from rolls
particularly ideal for heavy bales
simple, streamlined roll changes
no spindle necessary
cradle with smooth-running, ball-bearing-mounted steel support rollers
roll limiters for the positioning of the roll in the cradle

BN types with motor-driven take-off roll
working width can be tailored to meet customer requirements
clockwise and anticlockwise unrolling possible
can be attached to the cutting table
special versions available on request
Options

adjustable unrolling speed
additional unrolling from spindle
brake
mobile version featuring castors with double brake

compensating roller (for constant material tension) (only BN-T-K)
longitudinal cutter ST-6075(-L) (only BN-T-K)
Available voltage variants

3 ~ 400 V, 50-60 Hz
3 ~ 230 V, 50-60 Hz